Field Notes
A collection of photos from learning outside of the office and classroom
Everyone you meet is a potential teacher. Every meeting is a potential opportunity to understand where people come from, where they want to be, and everywhere in between.
Design that engages on an ethnographic level generates more nuanced and textured outcomes that are in conversation with everyday life.
Old Kampala Hill, Kampala, Uganda

One mobile device for each of the two dominant service providers— Airtel and MTN. The true test is knowing which phone zip codes belong to which telecom service provider.
Katwe Market, Kampala, Uganda
I venture to Katwe Market with my collaborator/fixer, Pius on a Sunday morning. It is a white hot morning and I am determined to visit the place where they say 'you can get anything built in Katwe— that's where innovation is.' After wandering about the market furiously observing, we decide to try to find the makers of the Frankenstein-esque kerosene lamps. We trek away from the main arteries of Katwe and arrive somewhere in Kakajjo and bring out the famous juice box of The weDub Project and chat about who is the better VJ—Junior or Jingo?— and Richard helps fabricate a casing out of an Indian Curry tins. No instructions, just conversation.
Wandegeya Market, Kampala, Uganda


While getting charged a significantly lower price for avocados than muzungus (foreigners), I spy a mobile phone flat faced on the ground in the now obsolete Wandegeya Market. I pick it back up for Mama Joseph who hands me a sack of avocados before I proceed to ask questions...
Just picking up a prescription, Austin, TX
An example of design following invisible scripts that often go unchallenged. How might we design for inclusivity? What are we implying with this design? A reminder for more representation and the need for a gut-check.
Kaiping, Guangzhou, China


I've been discovered sneaking around in an abandoned diaolou (碉楼). Luckily, I'm welcomed and I'm ushered down one fortified watchtower and up the next.
Read more here.
Shanghai, China


The yams were atrocious, but at least the convo was decent.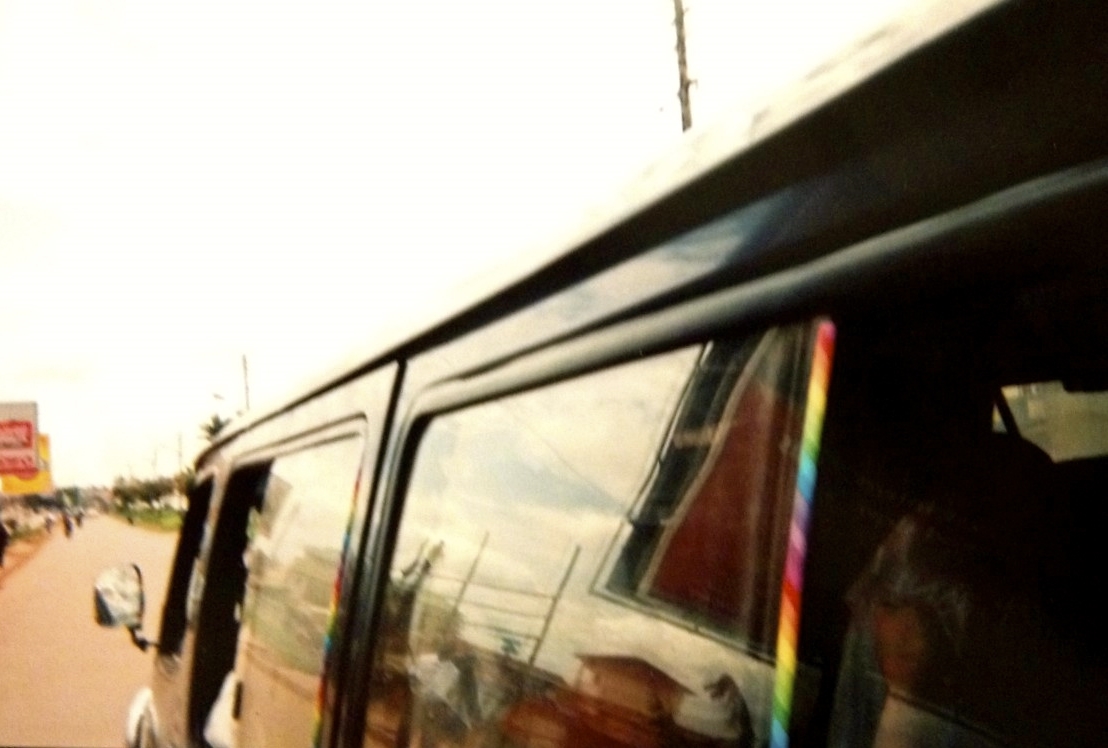 Gulu, Uganda from Kodak Disposable Camera

Sometimes you just gotta shoot from the hip... or from out the window to find the rainbows.
Jinja Road, Kampala, Uganda


A friendly during rush hour while squished in a 12 person taxi van in town.
Kyebando, Kampala, Uganda

Photo Credit: Pius Kadapao
Kodak Disposable Camera

Mama Pius asks me to bring her photo to Los Angeles so that she can live vicariously through it.
Mama Pius' house
Kyebando, Kampala, Uganda
Photo Credit: Pius Kadapao
Kodak Disposable Camera

Mama Pius prepares dinner, but first— she tests me of my knowledge of Ugandan produce by putting a few of them in my hand.
Bangkok, Thailand

Boat taxi conductor ducks as we emerge from under a bridge. My hunger for Thai food paused for a moment.
Kitante, Kampala, Uganda from Kodak Disposable Camera

When it rains in Kampala, the whole city stops. That's when you can capture someone's attention.
Katwe Market, Kampala, Uganda
Where the real innovation happens.
Siem Reap, Cambodia


They ask us: where to? We ask to be taken away from the tourist center of Siem Reap. We have no idea where we're going, but trust issues are thrown out the window (or into the wind) when you're adventuring.
Kamwokya, Kampala, Uganda

It's Halloween in Kampala and I find myself with another student at the local witch doctor's home. He tells our fortune, but I'm more interested in learning about him than my future.
En route to Siem Reap, Cambodia from Bangkok, Thailand

You know you're on the right train when people stare at you and school kids wearing uniforms are hanging onto the train outside before they hop off.
En route from Shanghai to Beijing, China


Even if you don't have a seat ticket, you can still get from A to B.
Temple of Heaven, Beijing, China


There is delight in the ephemeral. Poetry written with water by Li 爺爺. I stumbled upon him writing my favorite Tang Dynasty poem: 登鹳雀楼.
Reminded me that sometimes it's better when what you make doesn't last so that you're onto the next.